Registration & Accommodation
Accommodation in various price ranges nearby Harpa has been booked for participants since Reykjavik could be quite crowded during the conference period. To secure the accommodation of your choice, we recommend that you submit your registration with hotel booking as early as possible. Bookings are made directly via the registration form.
| Registration fees before June 26 | Registration fees after June 26 |
| --- | --- |
| ISK 15.000 | ISK 25.000 |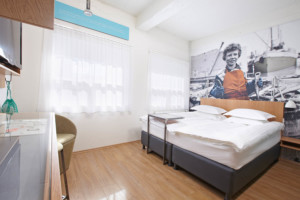 Icelandair Hotel Reykjavik Marina ****
Marina is a 155 room hotel located in the up-and-coming downtown harbour district, the Icelandair Hotel Reykjavik Marina is not just another hotel in Reykjavik. Instead, this hotel delivers a more authentic Reykjavik experience, by synthesizing the city's rich maritime history with its, vibrant present day culture.
The hotel is probably the only hotel in the world where you can almost touch the huge vessels in the dry dock, but the main entrance of the hotel is on the north side of the hotel.
Free wireless internet
Address: Myrargata 2, 101 Reykjavik
Price    
Single use: ISK 40.900
Double use: ISK 45.600
Hotel Reykjavik Centrum ****
Hotel Reykjavík Centrum is located on Aðalstræti, one of Reykjavík's oldest streets, in a newly renovated building, the oldest part of which was built in 1764. On either side of it, new buildings have been built in the likeness of their historic predecessors Fjalakötturinn and Uppsalir.
Hotel Reykjavík Centrum has been certified as a 4 star hotel by Vakinn, the official quality and environmental system within Icelandic tourism. The hotel has also received a Bronze-Class Evironmental label from Vakinn.
Free wireless internet
Address: Aðalstræti 16, 101 Reykjavik
Price
Single use: ISK 39.600
Double use: ISK 42.800
Hotel Frón ***
is a modern and friendly hotel situated in the heart of Reykjavik on the main shopping street, Laugavegur. The hotel is simple in design yet elegant and structured to suit all their guests' individual needs. They aim is to provide total comfort in every room and a friendly atmosphere to make their guests feel right at home. Only a few steps away are the centres bustling cafés, restaurants, shopping, galleries and theatres. You are assured of a warm welcome at Hotel Frón in a friendly and a modern hotel right in the heart of Reykjavik's city centre.
 Free wireless internet
Address: Laugavegur 22A, 101 Reykjavík
Price
Single use: ISK 27.000
Double use: ISK 27.800
Hotel Leifur Eiriksson *** Hotel Leifur Eiríksson is set in an old respectable house right in the center of Reykjavík. The hotel is on Skólavörðustígur which is one of the most sought after streets in Reykjavík where you will find numerous galleries as well as designer and specialty shops. Across the street from the hotel is the magnificent Hallgríms church, the most famous landmark of Reykjavík. Hotel Leifur Eiríksson has 47 rooms. They are all equipped with a telephone, radio, satellite TV and a private bathroom.
Great location
Free wireless internet
 Address: Skolavordustigur 45, Reykjavik
Price:
Double for single use: ISK 22.500
Double use: ISK 23.100
Hotel Klettur *** is a beautiful first class hotel, a stone's throw away from downtown Reykjavik. The hotel has 166 rooms and a beautiful lounge on the first floor as well as a breakfast room. The hotel's name is derived from the rock that is on the first floor of the hotel and bursts out through the wall. The hotel's look and interior gets its inspiration from Icelandic nature, especially the Icelandic rocks.

Free internet
Address: Mjölnisholti 12-14, 105 Reykjavik
 Price
Single use: ISK 26.600
Double use: ISK 32.700
Hotel Cabin **
opened in May 1997 and was completely renovated at the beginning of 2007. The hotel offers 253 rooms. Hotel Cabin prides itself on offering our guests warm, friendly hospitality and a high level of comfort at affordable prices. The standard rooms are small but comfortable and all have private bathrooms with showers.
Free Wireless internet 
Street address: Borgartún 32, 105 Reykjavik
Price
Single use: ISK 21.300
Double use: ISK 24.600
Hotel Hilda ***  is a boutique hotel in the center of Reykjavik located on Bárugata 11, a quiet street, and only a 3 minute walk to downtown. The hotel opened in May 2012 after a complete renovation in which the old guesthouse received an entire facelift and became a boutique hotel.
Hotel Hilda is open 24 hours. Offers you 15 rooms on 4 floors; the rooms are bright, quaint and comfortable. All rooms are singularly decorated with astonishing photography portraying Icelandic bird wild life. All rooms have a key card energy safer system, heating, en-suite bathroom, flat screen TV, cable network, free WI-FI and Sóley Organics toiletries. There is a small and slow elevator in the house to carry your luggage, and we offer disabled guests a wheelchair accessible room, in the ground floor, next to the breakfast area.
In May 2015, a new owner took over the hotel,  she continued the hard work of the previous owner by preserving the charm and character of this historical house and adding pieces of art on the walls, all made by local artists, Icelandic handcrafts were also added to the rooms and breakfast area.
The hotel offer a wonderful, healthy breakfast with local products and a wide variety of tastefully prepared foods. The breakfast room is small, however our observation is that guests are quite happy to sit tight and share their traveller experiences and tips during breakfast.
Free wireless internet
Address: Bárugata 11 , 101 Reykjavík
Price
Standard single use: ISK 26.500
Standard double use: ISK 27:200
Superior single use: ISK 27.900
Superior double use: ISK 28.900